Wednesday, September 27, 2023  - Snow Removal parking restrictions are NOT in effect in the Moorhead Blue Snow Removal District today. You may park your vehicle according to the standard parking regulations.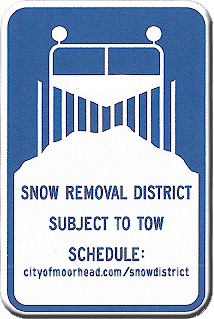 The City of Moorhead can issue a Snow Removal Declaration after heavy snow fall has taken place. During this declaration, special parking rules take effect in designated Snow Removal Districts that allow the City to tow cars in order to fully plow roads and provide safe travel for emergency vehicles. All roadways affected by the Snow District parking restrictions are posted with these signs (left).
Vehicles parked in violation of these parking rules will be towed at the expense of the vehicle owner.
Map of Snow Districts
View a map of the snow districts
Parking Restrictions
Snow District parking restrictions follow the same schedule as regular street maintenance no parking days and times except vehicles parked in violation of the no parking schedule during a Snow Removal Declaration are towed instead of receiving parking tickets.
Notifications
Snow Removal Declarations are posted to the City's Twitter and Facebook pages. You can receive email notification by subscribing to the Snow Removal District event eNotifications, or by calling 218.477.SNOW.
If Your Car is Towed
Call the Police Department at 218.299.5120 to recover your vehicle.
Questions?
For more information on Snow Districts email Streets staff or call 218.299.5422.
No. The property owner must make the application and determine how the permit will be shared between the tenants living in a rental unit.

Yes, except that property owners with homes on streets adjacent to the 3-hour zone may

apply for a permit

(one per property) to exempt one vehicle from the 3-hour parking restriction in the block adjacent to their home. All other vehicles must follow the parking requirements posted on the streets for the scheduled restriction periods. Three hour limits are not in place during evenings, weekends, or summers when the parking congestion is not typically a problem.

The car must be moved at least one City block for the 3-hour time period to be restarted.

During normal business hours, contact the Police Department at 218.299.5120 to pay the fees and arrange a time to release the car.


A replacement fee of $25.00 applies. The permit holder/property owner must complete a

replacement permit application

and file a police report to limit fraudulent redistribution and replacement of issued permits. An individual in possession of a stolen permit is subject to criminal prosecution.

Boulevard signs will be posted for the restrictions that apply to each block. Utilize driveways and parking lots whenever possible. Cars may not be parked on grass, in front yards, or across the sidewalks. MSUM does permit free parking in some of their lots after 5 pm and that may be an option for neighbors during snow events. Those lots are signed accordingly.

You may call the Police Department at 218.299.5120.


Will vehicles with disability license plates or residential parking permits have to move their cars for snow removal?

Yes. Vehicles with disability license plates or permits are not subject to the 3-hour parking time limit, but are subject to all other parking regulations. All vehicles will have to be moved during snow removal periods and posted street maintenance schedules.

Warnings will not be issued in the case of snow events or when a vehicle is blocking someone's driveway regardless of the weather. It was very clear from the parking study that illegal parking and the narrowing of streets due to incomplete snow removal are both a safety concern and major frustration.